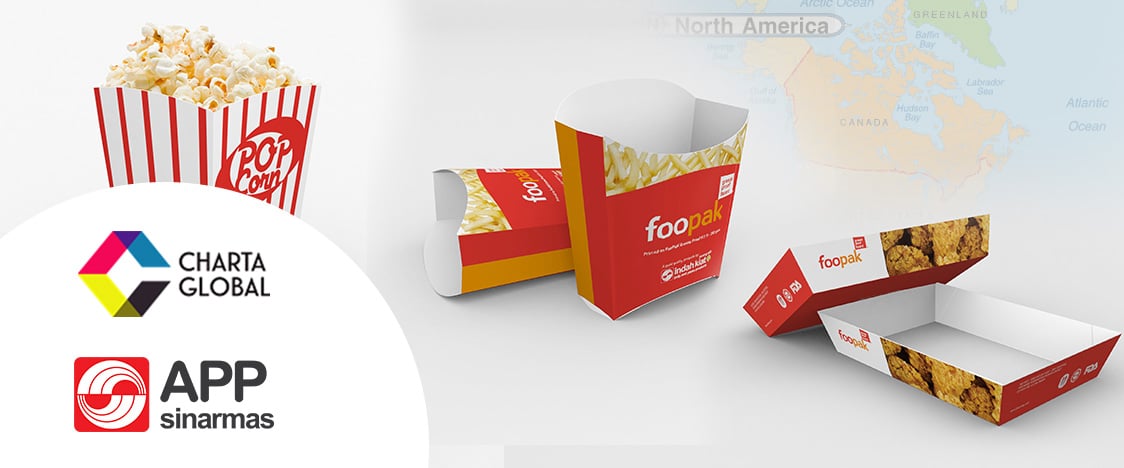 Charta Global Announces Availability of Foopak Grease Proof Paper
Jakarta, 31 July 2018 – Charta Global, exclusive strategic partner to Asia Pulp & Paper (APP), has announced the availability of a new grease proof paper in the North American foopaktm suite of food packaging products. Foopak grease proof paper is formulated with a grease resistant technology system that is impermeable to oil and moisture and can be used for direct food contact and various packaging applications. The chemistry meets all FDA requirements.
The wax free, grease proof paper is ideal for packaging dairy products like butter, margarine and cheese. It can also be used to package pastry goods as well as fast food and takeout items like French fries, sandwiches, burgers, wraps and other bagged items. Compostable and recyclable, the paper is designed to withstand temperatures up to 428 degrees Fahrenheit while providing hygienic protection for food.
"Consumer demand has tasked food providers with finding innovative ways to keep food fresher longer, while also ensuring sustainability," said Ian Lifshitz, Vice President, Sustainability and Stakeholder Relations, Asia Pulp & Paper. "The foopak grease proof paper is a logical solution for food preparation onsite and for packaging fresh food for takeaway and delivery."
The product is printable by flexographic and offset printers and provides the excellent run ability to fulfill a brand's needs.
—-
About Charta Global
Charta Global, headquartered in Anaheim, CA, sells an extensive portfolio of paper products which include: coated and uncoated for commercial and digital printing, coated folding carton boards, cast coated, food grade products, kraft, colored papers, briefcard, woodfree, photocopy & digital papers, carbonless, thermal, art and stationery products. Wholesale distributors and paper merchants throughout North and Latin America utilize Charta Global's robust supply chain and logistics programs. www.chartaglobal.com
About Asia Pulp & Paper
Asia Pulp & Paper (APP), part of Sinar Mas, is a trade name for a group of pulp and paper manufacturing companies in Indonesia and China. APP is responsible for delivering quality products to meet the growing global demand for tissue, packaging and paper, with an annual combined pulp, paper, packaging product and converting capacity of over 19 million tons per annum. On any given day, APP's products find their way into the hands of consumers in various branded forms from all over the world.
Ensuring supply chain integrity and commitment to the Sustainable Roadmap Vision 2020 are crucial to APP's operations. Learn more about APP's path to operational excellence by reading our Sustainability Reports and Forest Conservation Policy at www.asiapulppaper.com.
For media enquiries, please contact:
Chelsea D'Amore
CooperKatz& Co.