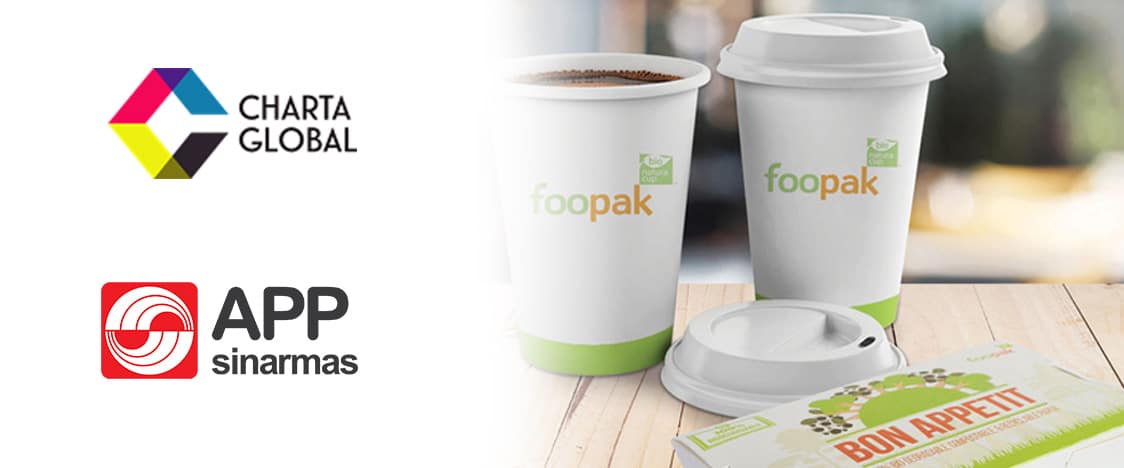 Charta Global Announces Availability of Bio Natura Food Container Board
New packaging application utilizes Asia Pulp & Paper's Bio Natura cup stock for advanced sustainability and biodegradable capabilities
Jakarta, 19 April 2018 – Charta Global, exclusive strategic partner to Asia Pulp & Paper (APP) has announced the availability of its Bio Natura Food Container Board, part of APP's foopaktm suite of food packaging solutions. Comprised of the same biodegradable properties as the Bio Natura cup stock, the new food packaging solution is ideally suited for takeaway food containers, sandwich boxes, cake baking trays and other related packaging for both hot and cold food items.
The Bio Natura Food Container Board can be used for a variety of food products from take-home entrees in restaurants to fast casual grab-and-go meals. It is microwave safe and eliminates moisture, allowing food to maintain quality when reheated and keep food fresh when frozen. The paper stock is FDA-certified and meets the standards with the FTC's Green Guides for biodegradability and compostability. Through testing by the ISEGA Institute, Charta Global has maintained scientific evidence the stock can completely break down and return to nature by decomposing in a matter of 12 weeks. The product has received certificates of REACH and SVHC compliance and fully meets the qualifications of EN 13432 for compostability. Additionally, the product can be safely composted in a facility or home compost pile.
"The high yield, multilayer folding boxboard (FBB) used in the Bio Natura Food Container Board supports a lightweight but durable product that can be easily recycled or composted," said Ian Lifshitz, Vice President, Sustainability and Stakeholder Relations, Asia Pulp & Paper. "This is a much-needed solution in the underserved food packaging industry, utilizing virgin fiber while offering a variety of sustainable disposal options."
Charta Global and APP will display the foopak Bio Natura Food Container Board, along with other products in at SPC Impact hosted by the Sustainable Packaging coalition in San Francisco on April 24-26.
—-
About Charta Global
Charta Global, headquartered in Anaheim, CA, sells an extensive portfolio of paper products which include: coated and uncoated for commercial and digital printing, coated folding carton boards, cast coated, food grade products, kraft, colored papers, briefcard, woodfree, photocopy & digital papers, carbonless, thermal, art and stationery products. Wholesale distributors and paper merchants throughout North and Latin America utilize Charta Global's robust supply chain and logistics programs. www.chartaglobal.com
About Asia Pulp & Paper
Asia Pulp & Paper (APP), part of Sinar Mas, is a trade name for a group of pulp and paper manufacturing companies in Indonesia and China. APP is responsible for delivering quality products to meet the growing global demand for tissue, packaging and paper, with an annual combined pulp, paper, packaging product and converting capacity of over 19 million tons per annum. On any given day, APP's products find their way into the hands of consumers in various branded forms from all over the world.
Ensuring supply chain integrity and commitment to the Sustainable Roadmap Vision 2020 are crucial to APP's operations. Learn more about APP's path to operational excellence by reading our Sustainability Reports and Forest Conservation Policy at www.asiapulppaper.com.
For media enquiries, please contact:
Chelsea D'Amore
CooperKatz& Co.