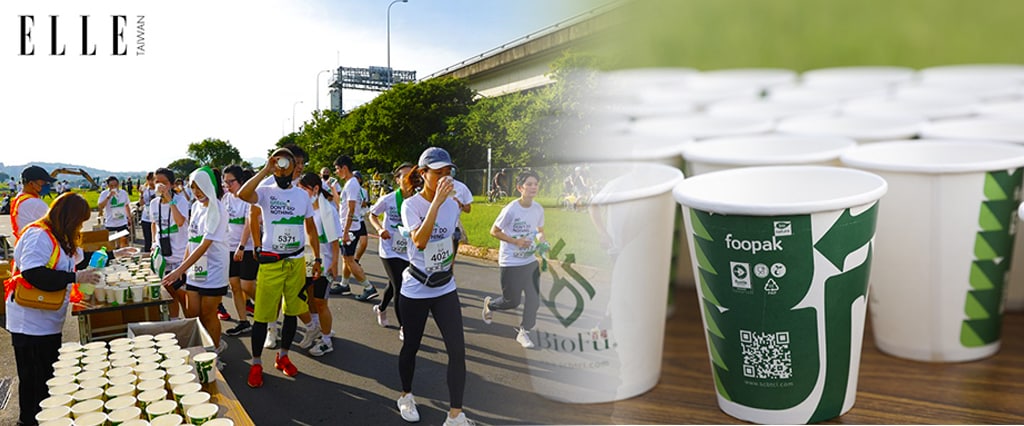 ASIA PULP & PAPER: GREENING ELLE RUN 2022
ASIA PULP & PAPER (APP) Sinar Mas helps make the 2022 edition of ELLE Run for Green more sustainable with plastic-free and sustainably produced paper drinking cups.
Taipei, 17 June 2022 – Asia Pulp & Paper (APP) Sinar Mas made the 2022 ELLE Run for Green even more sustainable with the sponsorship of 30,000 of its plastic-free and sustainably produced paper drinking cups by Foopak Bio Natura. These cups replaced the traditional plastic cups and plastic-lined paper cups to ensure the run's environmental impact is significantly reduced though more sustainable options.
Organised by Hearst Taiwan, the ELLE Run for Green event seeks to promote fashion and a healthy and environmentally friendly lifestyle and expects to attract between 5,000 to 6,000 runners, as well as media and the public to pay more attention to the environment through road running activities. The run consists of a 5km and a 10km race, both flagging off and ending at Taipei Dajia Riverside Park in the Action Arena.
This year's run is centred around the theme "Your Sustainable Lifestyle – Recycle, Reduce, and Reuse", reflecting our commitment to sustainability. Runners will take part in this eco-conscious event sporting shirts made from recycled plastic yarn, symbolising the ethos of recycling and waste reduction. Moreover, hydration stations throughout the course will veer away from plastic use, opting to serve water in Asia Pulp & Paper's environmentally friendly paper cups. In addition, in recognition of the world's forests and their contribution to this planet, for every 10 participants, the organiser will plant a tree via the "One Tree Planted" portal/app.
Commenting on APP's sponsorship of the run with its Foopak Bio Natura drinking cups, Angella Lin, APP Taiwan's Director, SSE said, "The ELLE Run for Green with its emphasis on combining style and sustainability is perfectly aligned with Foopak's innovative and versatile range of paper-based food and beverage packaging that is plastic-free and made of sustainable materials that is compostable. The run is a call to action for us to act together for a healthier people and planet, and Asia Pulp & Paper is proud to be associated with it and to support it with our drinking cups."
"The ELLE Run for Green is a useful reminder that we need to stay healthy for ourselves and the environment. The run's focus and theme also show that it is possible to be fashionable and sustainable, through making lifestyle choices that protects the environment we live in. We are grateful to Asia Pulp & Paper for their support through providing the recyclable drinking cups that help bring to life the run's sustainability objective", said Edmund Huang, Marketing Director, Hearst Taiwan.
The Foopak Bio Natura drinking cups will be available along the race route at four water stations. A water station will be set up at the start and end point, with one midway water station for the 5km track and three water stations for the 10km track. For the convenience of participants to choose their preferred drink while running, APP will be sponsoring 18,000 plain white cups for water and 12,000 printed cups for sports drinks.
About Asia Pulp & Paper (APP) Sinar Mas
Asia Pulp & Paper (APP) Sinar Mas is a trade name of a group of pulp and paper manufacturing companies that delivers quality products to meet the growing global demand for tissue, packaging, and paper. APP Sinar Mas' products are marketed in more than 150 countries across six continents.
As a sustainable and responsible business, we create products responsibly and operate with care for our employees, society, and the environment. We do this by leveraging technology and innovation, partnering the community, and adhering to international business and operating standards across our production and supply chain.
We subscribe to the Environmental, Social, and Governance (ESG) principles and our Sustainability Roadmap Vision 2030 guides us in fulfilling our social commitment as a global citizen to protect forests, support communities, conserve biodiversity, and achieve carbon neutrality across our operations by 2030.
For media enquiries, please contact:
Angella Lin
Director, SSE
APP Taiwan
angellalin@gcy.com.tw