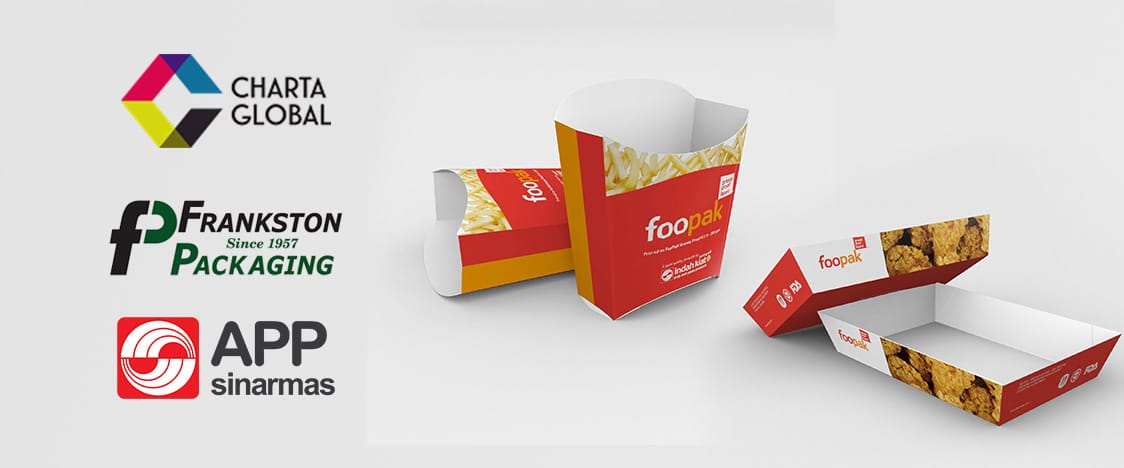 Frankston Packaging & Charta Global announce strategic alliance to offer Asia Pulp & Paper's Greaseproof Food Packaging
Jakarta, 3 May 2018 – Charta Global, strategic partner to Asia Pulp & Paper (APP) has announced a partnership with Frankston Packaging, a full service packaging manufacturer and distributor, to provide APP's greaseproof board to large retail food brands. Frankston Packaging, via Perez Trading, will for the first time offer the greaseproof board as a sustainable alternative for products designed to hold concession foods requiring a grease barrier.
Part of APP's foopaktm suite of food packaging solutions, the microwavable and freezer-safe board complies with US FDA standard, REACH and ISEGA certifications for direct food contact. The PFOA free (Perfluorooctanoic acid) board is formulated with an oil protection system that is impermeable to oil or grease, the board does not require unsustainable PE-coated liners that are difficult to recycle. Instead, the foopak greaseproof board can be easily recycled for repulping without the need of additional treatment and will biodegrade in a compost or landfill naturally.
"APP's world-class research & development team has the resources to consistently innovate and create solutions that are safer for the environment while maintaining the quality our customers expect," said Norm Bullock, Co-owner, Frankston Packaging. "This, paired with APP's global scale, means we can offer the sustainable products brands want at a competitive value."
"As sustainability becomes a priority in the market, brands and converters are looking for a variety of eco-friendly packaging attributes, such as biodegradability," said Eladio Del Reigo, Vice President, Consumer Packaging, Perez Trading. "PEFC certified greaseproof board from APP provides an environmentally-sound solution for a type of product that is often difficult to recycle and nearly impossible to reuse."
"We're pleased to partner with industry leaders like Frankston Packaging and Perez Trading who work closely at the retail level and can help drive more sustainable solutions in the market," said Christopher Wong, Vice President Export Sales, Industrial White, Asia Pulp & Paper. "We continue to be committed to providing sustainable packaging options that brands and consumers are increasingly demanding."
—-
About Asia Pulp & Paper
Asia Pulp & Paper (APP) is a trade name for a group of pulp and paper manufacturing companies in Indonesia and China. APP is responsible for delivering quality products to meet the growing global demand for tissue, packaging and paper, with an annual combined pulp, paper, packaging product and converting capacity of over 19 million tons per annum. On any given day, APP's products find their way into the hands of consumers in various branded forms from all over the world.
Ensuring supply chain integrity and commitment to the Sustainable Roadmap Vision 2020 are crucial to APP's operations. Learn more about APP's path to operational excellence by reading our Sustainability Reports and Forest Conservation Policy at www.asiapulppaper.com.
About Charta Global
Charta Global, headquartered in Anaheim, CA, sells an extensive portfolio of paper products which include: coated and uncoated for commercial and digital printing, coated folding carton boards, cast coated, food grade products, kraft, colored papers, briefcard, woodfree, photocopy & digital papers, carbonless, thermal, art and stationery products. Wholesale distributors and paper merchants throughout North and Latin America utilize Charta Global's robust supply chain and logistics programs.
As a strategic partner of the Asia Pulp & Paper Group (APP), Charta Global leverages a state of the art R&D network and leading sustainability practices of one of the world's largest fully integrated pulp and paper manufacturers with more than 20 million metric tons of paper and board manufacturing capacity. www.chartaglobal.com
About Frankston
Founded in 1957, Frankston Packaging Company is a full service manufacturer of custom Paperboard Folding Cartons, Rigid/Set-Up Boxes and Flexible Packaging. Our ability to manufacture all of the above products under one roof makes us unique in this industry. Originally a Gulf States facility, the company is now owned by Kyle Eldred and Norm Bullock. Together, they have over 50 years of combined experience in the corporate business world, and have leveraged this knowledge base to move the company forward. Our customer's response has been overwhelming as evidenced by our sales which have more than quadrupled since we purchased the company 15 years ago.
For media enquiries, please contact:
Chelsea D'Amore
CooperKatz & Co. for APP
917-595-3035