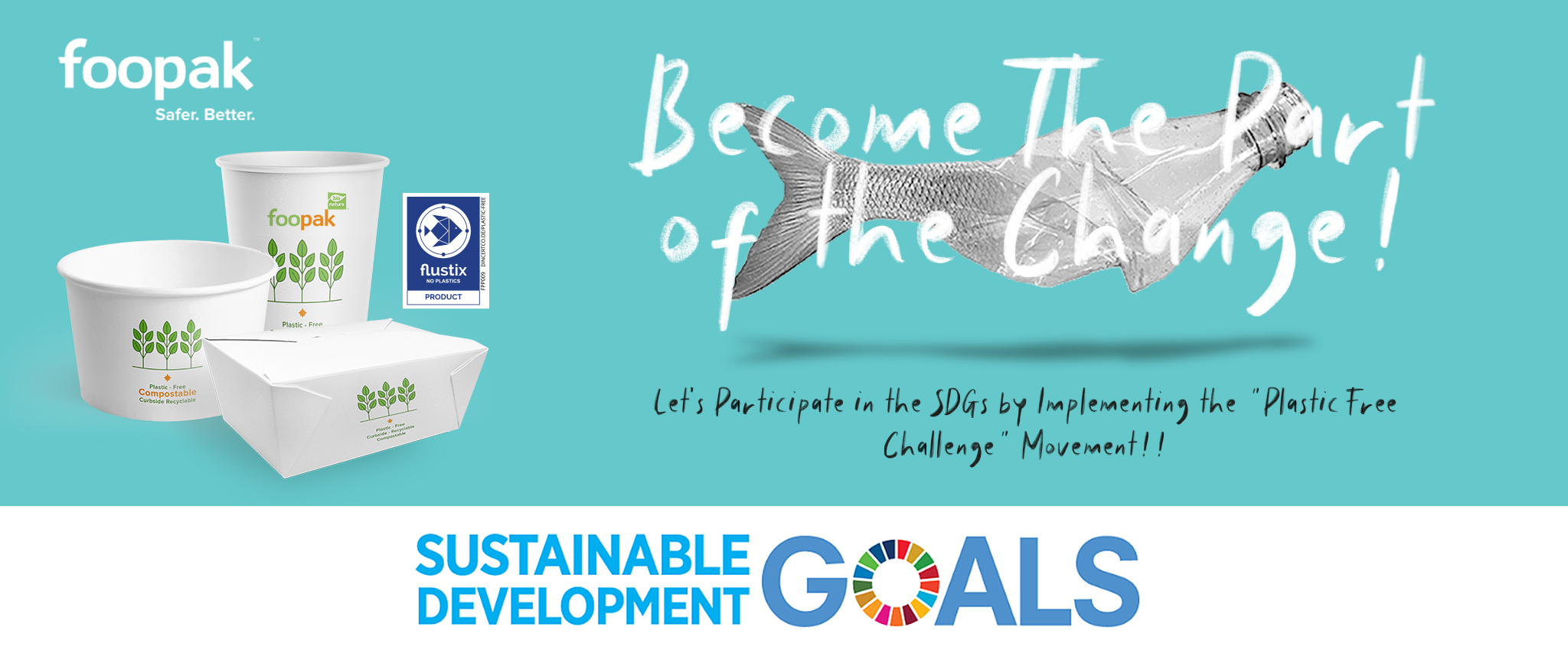 Become The Part of the Change! Let's Participate in the SDGs by Implementing the "Plastic Free Challenge" Movement!!
It is everyone wish to live sustainably and leave the best legacy for future generations. But can that hope be realized easily? In fact, we are faced with various issues including economic, social and environmental welfare. These issues led problems prompted the UN to establish the Sustainable Development Goals (SDGs) in 2015 as part of the 2030 Agenda for Sustainable Development, which contains 17 goals and 169 targets aimed at achieving sustainable economic, social, and environmental well-being. Talking about the SDGs, they encompass various aspects of development, including economic well-being, human rights, the environment, and social welfare. These goals are aimed at addressing global issues such as poverty, hunger, social inequality, climate change, and environmental degradation.
Based on these points, environmental issues are one of the things considered in the SDGs aspect. One of the environmental issues that is currently a global concern is the plastic problem. Plastic, besides being the most widely used material globally, but it is also one of the most difficult materials to decompose and causes significant environmental damage. The SDGs goals that are most relevant to the plastic problem are ;
Goal number 12 addresses sustainable consumption and production. One material that has a high level of production and consumption is plastic. Plastic waste is not easily decomposed its processing creates toxins, is carcinogenic and takes hundreds of years to decompose. According to data from National Geographic, plastic takes 450 years to decomposed.
Goal number 13 is about tackling climate change. The plastic industry produces greenhouse gases such as CO2 and methane gas which can cause climate change (planetary warming) or the greenhouse effect and has 8% contribution to climate change.
Goal number 14 is about biodiversity. Marine biodiversity is most affected by the abundance of plastic waste. This is evidenced by the high amount of plastic (microplastics) found in marine biota, and it can threaten the populations and species of marine biota in the future. Furthermore, microplastics are believed to have harmful effects because they can be a medium to facilitate the transport of toxic compounds such as heavy metals and persistent pollutants into the bodies of organisms.
According to data from the United Nations Environment Programme, if there is no significant change, it is projected that by 2050, 12 billion tons of plastic will be dispersed in the environment and only about 9% of the plastic is collected and recycled. Plastic that is not collected and recycled can cause serious environmental problems, including damage to marine and coastal ecosystems, destruction of animal habitats, and food poisoning.
To solve the plastic problem, many innovations have been created to reduce plastic waste in various industries and through various actions. The following are constructive movements carried out for preventive and curative measures on plastic usage:
The "Say No to Plastic Bags" movement is an effort to reduce the use of single-use plastic bags and raise public awareness about the negative impacts of using plastic bags and provide more environmentally friendly alternatives such as reusable shopping bags. This movement has been carried out globally, with several countries implementing it. Some examples are India, where the government issued a regulation banning the sale, production, and distribution of plastic bags since 2016. In California, USA, there was a ban on the sale of plastic bags in 2016. In some European countries such as Italy, Belgium, and France, a ban on the sale of plastic bags has been implemented and fines are imposed on violators.
The "Plastic Free Challenge" movement aims to encourage people to take a challenge of not using plastic products for a certain period of time, such as a month or a year. The goal of this movement is to raise awareness among the public about the negative impacts of plastic use and to provide more environmentally friendly alternatives.
Some examples of plastic free challenge movements in several countries are carried out, such as in Australia where "Plastic Free July" is held every year in July, where the community is encouraged to not use plastic products In July. In UK, there is the "Plastic Free February" movement which is held every year in February, where the community is encouraged to not use plastic products in February. In Indonesia, the "Year Without Plastic" movement is held annually, where people are invited not to use plastic for one year.
The "Plastic Free Coastlines" movement is an effort to reduce plastic waste on beaches and oceans. This movement is carried out by cleaning beaches and oceans, and raising awareness among the public about the negative impact of plastic waste in the marine environment. The cleaning activities are carried out by collecting plastic waste found on beaches and oceans and processing them in to reusable products. This movement is practiced in several countries and cities around the world. In India, it is known as the "Clean Coastlines" movement, in Australia it is known as the "Take 3 for The Sea" movement held by an environmental organization that encourages people to take 3 pieces of plastic waste while at the beach or ocean, and in Indonesia, it is known as the "Indonesia Plastic Free Coastlines" movement.
Based on the existing waste data and the preventive measures taken, the projected growth of plastic waste in 2023 depends on the policies and efforts taken to reduce plastic production, use and disposal. However, if there is no significant change in the way we deal with the plastic problem, it is estimated that the amount of plastic waste dischargedinto the environment will continue to increase every year.
Overall, the SDGs call for all stakeholders to work together to promote sustainable development and reduce environmental damage, including the issue of plastic. Movements to reduce plastic usage are one of the effective ways to achieve sustainable SDGs goals. This should be a priority for the government, business, and society.
PT. Indah Kiat Pulp and Paper, under the Sinar Mas Group, has created a leading innovative paperboard for food packaging,Foopak Bio Natura . Foopak Bio Natura is designed to be an eco-friendly packaging solution for food and beverages, Foopak Bio Natura uses cutting-edge disperse coating technology to replace plastic in the food service industry. Foopak Bio Natura  only uses certified base on specific wood resources, plastic-free, OBA free , high temperature resistant, water-resistant, and provides superior product functionality. With its non-plastic properties, Foopak Bio Natura can be composted within 12 weeks in industrial composting facilities and 24 weeks in home composting facilities. Foopak Bio Natura is also recyclable and repulpable without additional processing. Foopak Bio Natura can help to realize the implementation of SDGs 12, 13, and 14.
Foopak Bio Natura has been certified plastic-free by Flustix and has passed food-grade tests from the FDA and ISEGA, making it safe for food and beverage direct contact . Foopak Bio Natura with its advantages s certainly becomes a solution to environmental problems, plastic waste, and climate change, and helps to achieve the implementation of SDGs 12, 13, and 14.
Protecting the environment not only brings benefits for life today but also for life in the future. Let's start being wiser to reduce the use of plastic and participate to protect the future. Let's start a new positive movement!