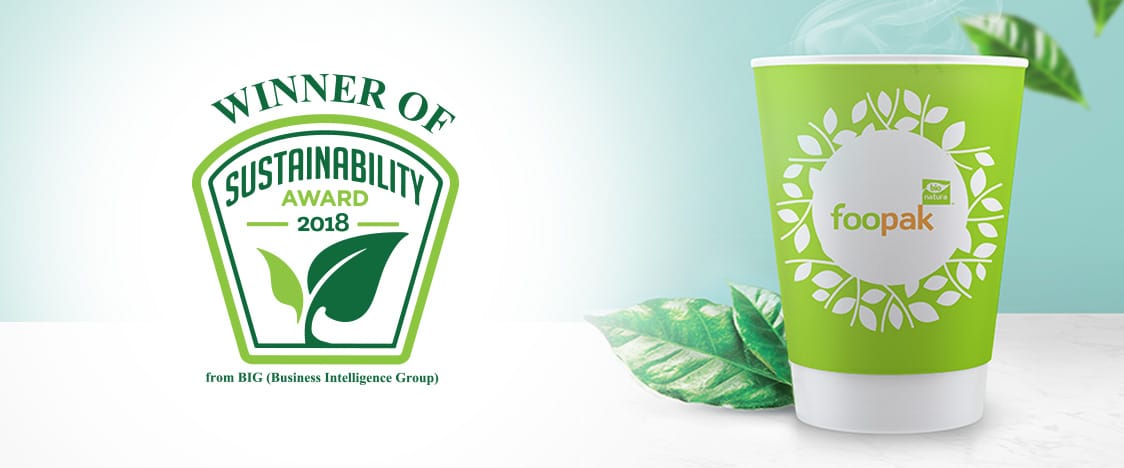 Asia Pulp & Paper's Foopak Bio Natura Compostable Food Packaging Solution Awarded "Sustainability Product of the Year"
Jakarta — July 17, 2018 — Today, the Business Intelligence Group named Asia Pulp & Paper's (APP) Foopak Bio Natura suite of food packaging products "Sustainability Product of the Year" in the 2018 Sustainability Awards program. The Sustainability Awards honor those people, teams and organizations who have made sustainability an integral part of their business practice or overall mission.
In response to the demands of consumers and the brands that serve them, APP's Foopak Bio Natura is replacing plastic, foam and PE-coated food packaging with a fully compostable, sustainable paperboard alternative. Especially designed for converting both hot and cold beverage cups and other food packaging, the cup stock can sustain heat up to 440 degrees Fahrenheit/220 degrees Celsius.
Foopak Bio Natura cup stock is FDA-certified and meets the standards with the FTC's Green Guides for biodegradability and compostability. Testing by the Isega Institute shows scientific evidence the stock can completely break down and return to nature by decomposing in a matter of 12 weeks. Additionally, Bio Natura can be safely composted in a facility or home compost pile.
"Achieving this award affirms our commitment to sustainability in all areas of our operation," said Elim Sritaba, Director of Sustainability and Stakeholder Engagement, APP. "Beyond product development, we're committed to providing businesses with the solutions they need to do the same."
"Foopak Bio Natura provides the food and restaurant industries with a comprehensive suite of sustainable packaging solutions, bringing this compostable option to an underserved part of the market," said Felix Koh, Senior Vice President and Global Business Unit Head, APP. "We're pleased to offer an alternative solution to packaging waste."
"We are proud to reward and recognize Asia Pulp & Paper for its sustainability efforts," said Maria Jimenez, Chief Nominations Officer, Business Intelligence Group. "It was clear to our judges that APP's vision and strategy will continue to deliver results toward a cleaner, more sustainable world. Congratulations!"
APP joins the ranks of other Sustainability Awards winners including P&G, Danone North America, Hilton Software, Seed Phytonutrients and Dow Chemical.
—-
About Asia Pulp & Paper
Asia Pulp & Paper (APP) is a trade name for a group of pulp and paper manufacturing companies in Indonesia and China. APP is responsible for delivering quality products to meet the growing global demand for tissue, packaging and paper, with an annual combined pulp, paper, packaging product and converting capacity of over 19 million tons per annum. On any given day, APP's products find their way into the hands of consumers in various branded forms from all over the world.
Ensuring supply chain integrity and commitment to the Sustainable Roadmap Vision 2020 are crucial to APP's operations. Learn more about APP's path to operational excellence by reading our Sustainability Reports and Forest Conservation Policy at www.asiapulppaper.com.
About Business Intelligence Group
The Business Intelligence Group was founded with the mission of recognizing true talent and superior performance in the business world. Unlike other industry award programs, business executives—those with experience and knowledge—judge the programs. The organization's proprietary and unique scoring system selectively measures performance across multiple business domains and then rewards those companies whose achievements stand above those of their peers.
For media enquiries, please contact:
Brittany Erskine
CooperKatz & Co. for APP
917-595-3045
Maria Jimenez
Chief Nominations Officer
Business Intelligence Group
1 909-529-2737
jmaria@bintelligence.com