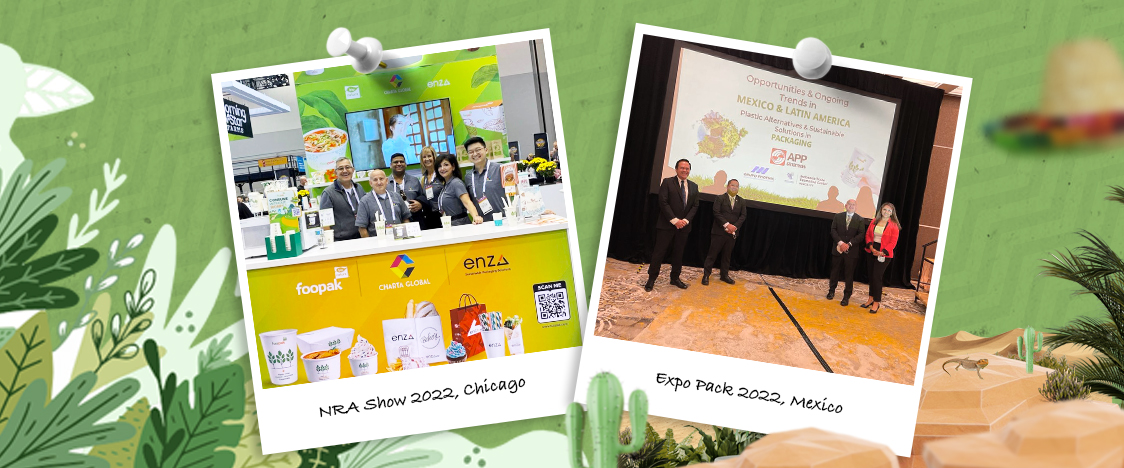 APP Sinar Mas and Charta Global Showcased Foopak Bio Natura in NRA Show and Expo Pack 2022
Asia Pulp and Paper (APP) Sinar Mas with Charta Global showcased the flagship plastic-free and compostable packaging product, Foopak Bio Natura first time in the USA. NRA Show was held on May 21-24th in Chicago, and Expo Pack 2022 in Mexico on June 14th-17th. The events aimed to educate and introduce the eco-friendly product "Foopak Bio Natura" to the US and Latin American markets.
In NRA Show, APP also showcased the sister brand, Enza, which is produced by PT. Pabrik Kertas Tjiwi Kimia Tbk., East Java, Indonesia. Foopak Bio Natura had a high enthusiasm from visitors. The booth had a huge audience and market attention during the event. APP displayed Bio converted cups to attract visitors' attention so that they can immediately see the application of cups used as food grade and safe beverage packaging. The green design color on the cup shows environmentally friendly.
Foopak Bio Natura is an environmentally friendly packaging paper, it's made from materials that can be decomposed in the soil, can be recycled, and are not harmful to the environment and humans. Eco-friendly packaging paper is not only used to keep nature safe but can also be used as a promotion for a product because many people already understand the importance of protecting the environment and supporting sustainability.
Why can Foopak Bio Natura be considered an environmentally friendly product? Because this paper already has a plastic-free certification from Flustix, recyclable from Cyclos, and has food grade testing report from ISEGA and FDA. Foopak Bio Natura paper can be placed in the microwave with a maximum temperature of 175o degrees Celsius. The result of research and development that we have continued to do over the years is ordered to obtain packaging paper that can be a solution for plastic waste which has become a concern abroad.
In Expo Pack, US VP of Sustainability and Stakeholder Relations, Ian Lifshitz spoke about current opportunities and ongoing trends on plastic alternatives and sustainable solutions, along with the Director of ITPC and representative of Grupo Phoenix at press breakfast. As we know that plastic waste is an international problem where we must immediately start innovations and programs to reduce its use. The innovation of Foopak Bio Natura became huge attention from visitors and media. Many of them were giving positive attitudes toward our plastic-free product. Closing out the day with a bang! Foopak Bio Natura successfully got amazing impressions from Mexico and the US market.