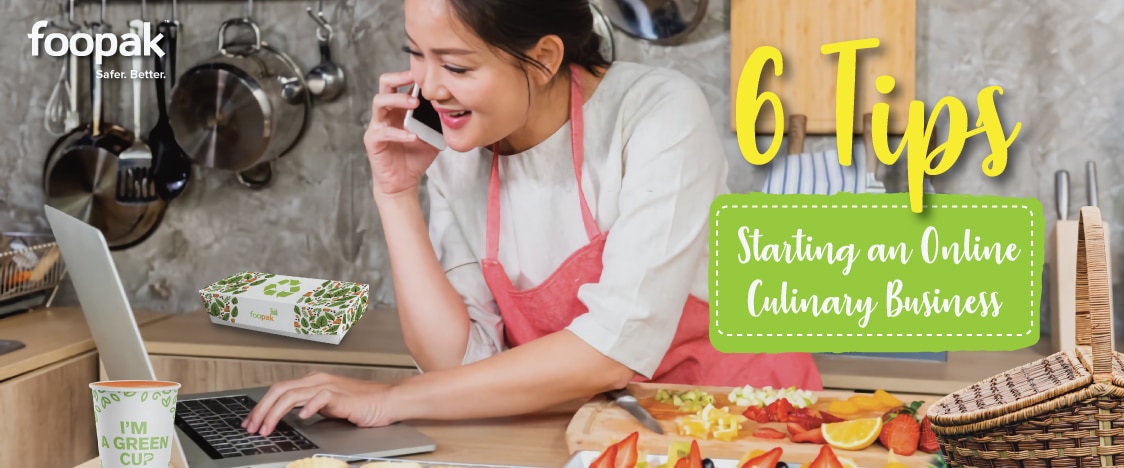 6 Tips for Starting an Online Culinary Business
Shopping through the online marketplace and the apps are an activity that most people do during the Covid-19 pandemic, and the on-demand service will be the core of the business in the future. Finding goods, instant updates on the brand's new products, and fast delivery make shopping activities quicker and more practical. One and the most rapidly growing business that takes the opportunity to capture consumer needs is the food delivery business. By scrolling through the menu in the mobile application while sitting at home, we can practically place the order and wait for the food to arrive at home in a very short time.
The growth of the online culinary business is increasing in the community. McKinsey provides the data which states that the food delivery trend has increased significantly since the beginning of Covid-19. The market grew 4 to 7 times from 2020 until early 2021 in several countries such as Canada, Australia, US & UK. GrabFood's research entitled Indonesia Food and Beverage Trends Report 2020/2021 stated that reports on the results of the food business ordered using delivery services increased fourfold throughout 2020.
Technological sophistication brings the consumers who are afraid to leave the house because of the current situation and don't want to bother cooking a genius and convenient way. The trend of online food delivery reaches all levels of society and has become a habit over the last few years. We can see the huge market potential in the culinary business, making the culinary very interesting, and the opportunity is endless.
To those thinking of starting the food and beverage business, we highly recommend the online platform where you can increase your product's presence and create a convenient way for your customer to receive the food without leaving home. But before starting, here are some tips to start:
Target Market
Each has its target market in the F&B business, from high street restaurants to street food. It's wise to research by understanding which customer's persona in the area to approach with the food or beverage you want to sell. When you set the target market, conducting surveys, food sampling, raw material cost estimation, sourcing, and target pricing are important things that need to be covered. You don't want to sell a product that does not match your target customer, creating a product-customer miss-match.
The Right Business Ideas
After you set the target market, you need to understand the customer interest. Suppose you don't master the manufacturing process or don't have the basic skills to make these foods and beverages, you can always start the business ideas from food or drinks already selling well in the market. There are still many ways to learn, such as watching on YouTube and culinary recipes on various social media as a reference to it. Make observations, imitate and modify existing businesses (benchmarks), and add value to your culinary business as its characteristics.
Make sure the products you sell follow what your target market is interested in, the market trends, provide unique selling points, are easy to deliver, and manage by your abilities. Find out why consumers want to buy your product and your product strengths that competitors do not have, such as the strong taste of food from family recipes, manufacturing techniques, or special ingredients. Or it could be by providing more service such as a unique packaging form, comfortable and safe when used. The point is something that makes potential buyers get more benefits when buying your product.
Determining the Price
When you start an online food business, the goal should be to profit from sales. It also applies to the food and beverage industry; determining the selling price of food and the amount of profit to be taken can be done by using the margin pricing method. In addition, you can evaluate prices based on competitors' prices and adjust precisely to the cost of goods sold, market segmentation, and value.
Business Capital
Many people feel less confident about starting a business because they are worried that there is not enough capital or that they are over budget. It would be nice to calculate carefully and efficiently to not interfere with business operations when running it. F&B online business is more profitable because the place you require is not huge since most transactions will solely come from delivery methods. It can save cost if you find a suitable center location between the area where you don't need to worry about parking and the customers' convenience who will come to your store. Also, set a monthly, quarterly, or yearly sales target because this is very important to calculate the income and costs of your business and provide clear goals when you can return your investment.
The Right Promotion
The internet and social media advancements provide a solution in today's digital era. You can upload your business content, such as videos, pictures, and food descriptions, on the social media platform, from Facebook, Instagram, Tiktok, Pinterest, and many more. You can include a link that will connect to Whatsapp, your business website, or online food ordering application for the ordering process through these platforms. There are so many digital marketing activities that you can try, such as social media ads to increase the impression that your potential customer might like and target the demographic according to your target customer's persona. If you upload your content videos to TikTok in a unique, beautiful, and quality way, it may feature in FYP (For Your Page) on Tiktok and go viral. The more viral your business is, the more you will be known and increase sales.Another effective way to maximize promotion is through KOL (Key Opinion Leader) and influencers with huge followers that match your target market and budget, who can persuade them to be interested and buy your products.
Packaging from Sustainable and Environmentally Friendly Materials
Packaging is essential to your online business since you need to deliver the food safely to your customers. Attractive packaging design from the value of the packaging, uniquely designed and using good materials can also increase sales. Packaging designs that are different from competitors' for similar products will look unique, give a good impression, and have characteristics. This is why making paper food packaging must be attractive and right on target to attract potential buyers.You can choose from many materials; however, you need to pick sustainable materials as a responsible business owner. Paper material for food packaging has recently become the main attraction for businesses and consumers due to its sources coming from and end of life process. IBM Institute for Business Value data states that 77% of consumers choose environmentally friendly products and 44% of people select recyclable products. The research shows that consumer enthusiasm for eco-friendly and sustainable packaging has increased sharply. However, people need to understand that not all paper materials for food packaging are created equal. Some have a plastic lining on the inner side, making the material very difficult to recycle and not compostable.Foopak Bio Natura is the perfect solution for paper packaging material for food and beverage packaging. Foopak Bio Natura is also plastic-free certified, recyclable based on the EU standard EN 13430, biodegradable and compostable according to EU standard EN 13432. Foopak Bio Natura is safe to use when placed in the oven at 200°C for 2 minutes and can in the freezer to a maximum of -18°C. In addition, the paper has food-grade standards, received Halal certification, and is safe and free from leaks. Foopak Bio Natura is a superior product using high-quality and environmentally friendly virgin pulp. It is safe and suitable when applied as food and beverage packaging for online delivery and adds value to its specifications.


Well, above are some tips for those who will start a culinary business from home. Hopefully, it can help, and don't be afraid to fail to try to do business, and you have to keep positive thinking!