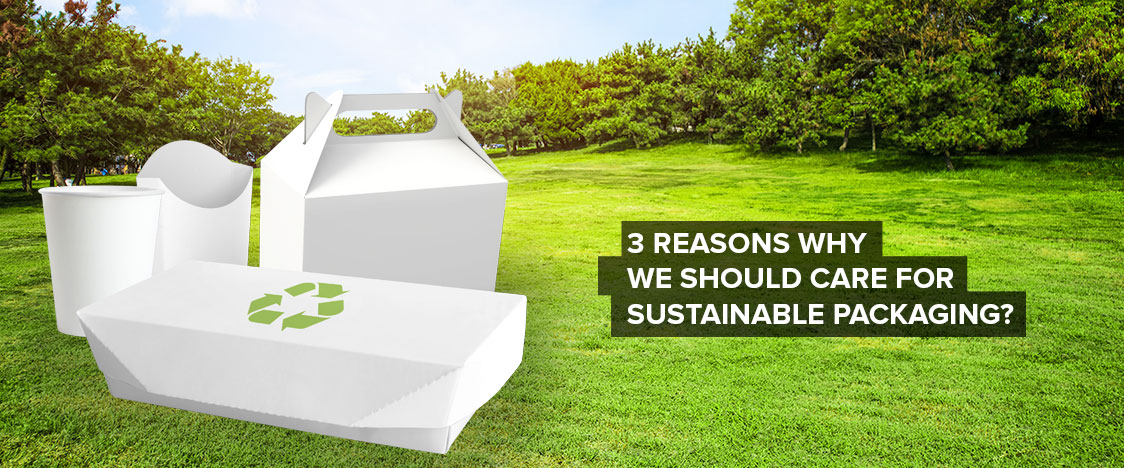 3 Reasons Why We Should Care for Sustainable Packaging?
Sustainable is the capacity to endure in a relatively ongoing way across various domains of life, it also creates and maintains the conditions under which humans and nature can exist in productive harmony, that permit fulfilling the social, economic, and other requirements of present and future generations. Related to sustainability, the packaging industry is the most important sector we must think about nowadays since it creates a more negative impact on our environment.
There are 3 reasons why we should care about sustainable packaging:
1. Global Plastic Waste
Sources from the Jambeck journal stated that 2.5 billion metric tons of solid waste are produced all around the world, and an estimated 8 million metric tons of plastic entered the ocean in the same year. And by 2050, according to United Nations Environment Program, there will be more plastic than fish in the ocean. Total world plastic is only 9% being recycled, the rest will take 50 to more than 400 years to degrade! This issue forced us to manage how the waste should be managed at the right disposal. And, the debris of plastic or the so-called microplastic, if digested to the human body, will have a certain health issue.
2. Limited Resources
Do you know the plastic comes from crude oil? The oil production will be depleted in the future, and we need to think about how to manage and use the energy well, rather than create more packaging that uses plastic for single usage, instead, we need to source with renewable, bio-based, and natural resources that can be replenished through a natural process. This process maintains change in a balance with the environment. The benefit of these resources also has been proven easily recyclable and compostable.
3. Landfill Gas
Landfill gas (LFG) is a natural byproduct of the decomposition of organic material in landfills. LFG is composed of roughly 50 percent methane (the primary component of natural gas), 50 percent carbon dioxide (CO2), and a small amount of non-methane organic compounds. Methane is a potent greenhouse gas 28 to 36 times more effective than CO2 at trapping heat in the atmosphere over 100 years. In 2018, plastics generation was 35.7 million tons in the United States, which was 12.2 percent of MSW generation.
For the reasons above, what can we do to take part in manage sustainable packaging? As product manufacturers or brand owners, we should make a sustainable operating system and all required of it. As a consumer, we can start from small things like replacing single-use plastic with reusable packaging for shopping bag or daily needs, reusing containers for storing food/beverage, reducing bottled drinking water, and start moving to paper as sustainable packaging products.
With the increasing consumer demand for sustainable products, companies are developing eco-friendly packaging to satisfy their customers and improve the world. APP Sinar Mas as one of the leading pulp and paper company has brought an innovative eco-friendly solution in the food and beverage packaging sector.
Foopak Bio Natura is designed to be the solution of eco-friendly food and beverage packaging, using proprietary aqueous dispersion coating technology to replace the plastic lining in the foodservice industry. Foopak Bio Natura using only certified wood sources, OBA-free, high-temperature resistance (microwaveable & ovenable), giving the product superior function than normal cupstock paper. With its non-plastic nature, it can be composted within 12-weeks in the industrial compostable facility, and 24-weeks in home composting. The product is not only biodegradable and compostable, it is also recyclable and repulpable without any additional treatment or process.