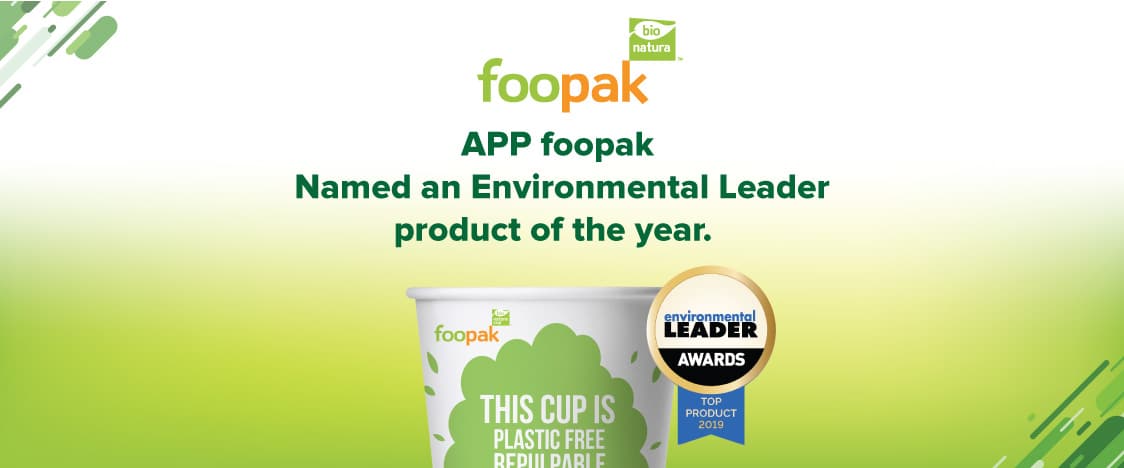 Asia Pulp and Paper (APP) Foopak Named Product of The Year Award Winner by Environmental Leader and Energy Manager Today
Annual award program recognizes the most innovative and successful environment, sustainability and energy products and projects at ELEMCON 2019
Denver, 15 May 2019 Asia Pulp & Paper (APP) Foopak received a Product of the Year Award from Environmental Leader and Energy Manager Today at the annual Environmental Leader & Energy Manager Conference (ELEMCON) on May 14 in Denver.
Recognized for its innovative water-based coating to enhance compostability, Foopak offers a practical alternative to plastic and Styrofoam packaging materials. Its coating differentiates it from products with petroleum-based coating, allowing it to be effective for wet, hot and cold storage. In addition, Foopak is FDA compliant and ISEGA certified for compostability within 12 weeks.
Foopak was also recognized for filling a timely and important need in the consumables space by creating the potential to keep tons of polystyrene and polyethylene-laminate paperboard out of landfills each year. According to data from Asia Pulp & Paper's 2018 Consumer Trends Report, consumers acknowledge they are willing to pay more for fast food products packaged in sustainable materials, with 35% agreeing they would pay up to 10% more. Foopak meets all requirements to safely manage food products, and effectively meets sustainability goals of consumers and businesses.
The Product of the Year award is an annual program run by Environmental Leader and Energy Manager Today that recognizes the most innovative and successful environment, sustainability and energy products and projects. An independent panel of industry experts judge the entries each year. The winners were selected based on the success of the project, the capabilities of the product and the positive effect on the industry.
"We're honored to be recognized for our innovative and compostable Foopak product," said Felix Koh, Senior Vice President and Global Business Unit Head, APP. "It is one of our core business goals to bring sustainable products to market and have a positive impact on the environment."
—-
Untuk pertanyaan media, silakan hubungi:
Chelsea D'Amore
G&S Business Communications for APP
917-595-3035
About Asia Pulp & Paper
Asia Pulp & Paper (APP) is a trade name for a group of pulp and paper manufacturing companies in Indonesia and China. APP is responsible for delivering quality products to meet the growing global demand for tissue, packaging and paper, with an annual combined pulp, paper, packaging product and converting capacity of over 25 million metric tons per annum. On any given day, APP's products find their way into the hands of consumers in various branded forms from all over the world.

Menjaga integritas dari rantai pasokan kami sangat krusial untuk operasi APP Sinar Mas, seperti juga komitmen kami dalam Roadmap Keberlanjutan Visi 2020. Pelajari lebih lanjut tentang keunggulan operasi APP Sinar Mas melalui Laporan Keberlanjutan dan Kebijakan Konservasi Hutan kami di: www.asiapulppaper.com.
About Business Sector Media
Fort Collins, Colorado-based Business Sector Media delivers industry-specific, business-to business news, research, insights, and information to decision-makers around the world. Business Sector Media is the publisher of Environmental Leader and Energy Manager Today.